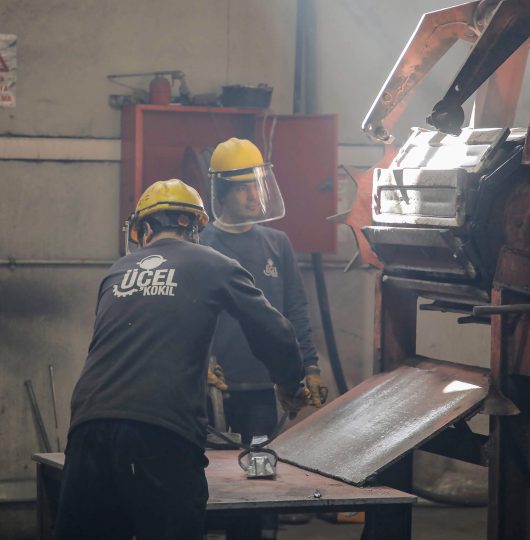 In 2011, Üçel Kokil Döküm Recycling and Recycling Industry. ve Tic. Ltd. Sti. was established in Bursa Başköy Dökümcüler Site. In 2019, in the Karma Organized Zone located in the Bor district of Niğde province, which is his hometown, he moved his company beyond its growth and profitability targets and aimed at institutionalization. On the way he set out with the dream of reaching his goal; He and Üçel Kokil Döküm family, which he brought to the sector, are taking firm steps forward on his way.
The Bursa factory has a total production capacity of 900 tons/year in its 1000m2 area, and 20,000tons/year aluminum ingots and deoxidant production capacity in its 4,000m2 area in the Niğde factory.
Our Mission
Alüminyum sektöründe gelişmeleri takip eden, müşterilerin ihtiyaçlarını anlayan ve karşılayan bir şirket olmak. Bütün üretim sürecinde toplam kalite bilincini hakim kılarak müşterilerimize beklentilerinin üzerinde ürün ve hizmet sağlamak.
Our Vision
To be a reliable and high quality aluminum company known in the world economy. To become a globally accepted brand among aluminum suppliers by using the resources in the best way and by providing services to its customers under the most favorable conditions and on time.
Millions of tons of waste continue to be produced every year around the world. Wastes that are not managed or recycled in a safe manner cause permanent damage in all areas where we carry out our vital activities such as air, land and water. According to the data of the World Bank, 2.01 billion tons of urban waste is produced annually on a global scale. The figures published by Statista, analyzed by the Online Bulletin and PR Service B2Press, indicate that this rate will increase by 69% until 2050, reaching approximately 3.4 billion tons. Contrary to popular belief, East Asia and the Pacific are among the regions that generate the most urban waste.